In my lead up to building a clock I need to start building the tools that I need. One of the most important ones is a dividing head for my Sherline Lathe/Mill.
I've been looking at a variety of options each with it's own degrees of complexity. Then this one came to my attention.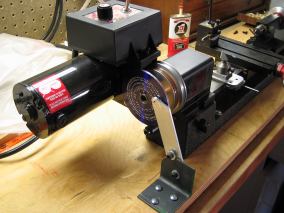 Very sweet and simple.
The website Jeese's Projects  is a personal log of a two year project of building a skeleton clock from an amazing W.R. Smith book: Build A Lyre Skeleton Clock. Mr. WR Smith also has a variety of books on how to use the Sherline as a clockmaker's lathe. Looks like something I'm going to have to investigate soon.